About Conference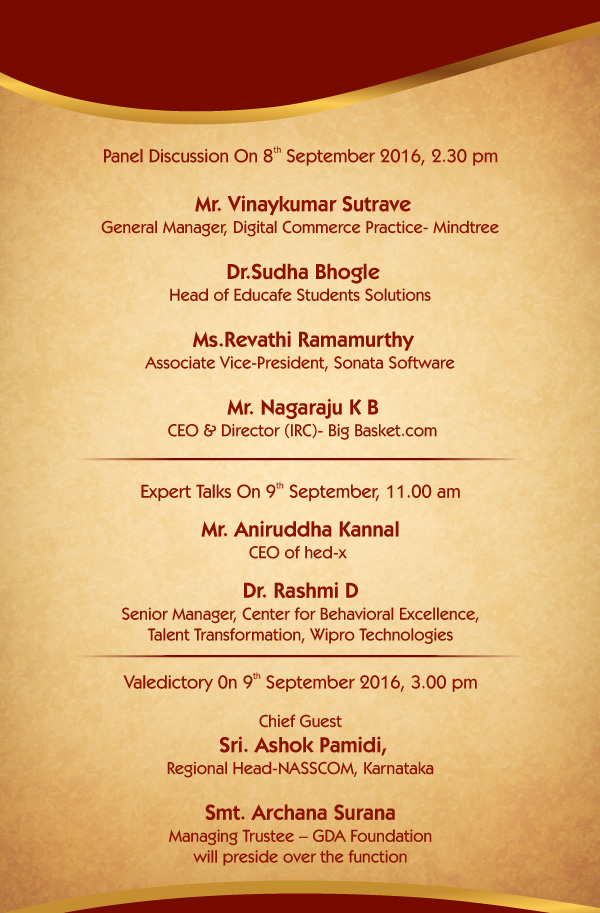 Digital Transformation is the most common trend of the times, impacting every aspect of Business, Technology, Society and the Human Mind. An interdisciplinary paradigm will provide all stake holders a greater understanding of the impact of Change, Challenges posed by digital transformation and the potential responses or choices in the future.
Objectives
The main goal of the conference is to bring together leading industry practitioners, academic scientists, and research scholars to exchange and share their experiences and research results on all aspects of Digital Transformation.
It also provides an interdisciplinary platform for researchers, practitioners and educators to present and discuss the most recent innovations, trends, and concerns as well as practical challenges encountered and solutions adopted. This model facilitates communication among stakeholders across the fields IT, Management, Sociology, Economics and Psychology.
Conference Speakers
A number of nationally reputed speakers have been invited from all over India.
Conference Theme for Presentations
Broad Theme: Digital Transformation; Change, Challenge and Choice
Sub-themes: (only indicative)
E-Commerce, M-Commerce, and the virtual markets of the future
E-HR, Digital Marketing, cloud ERP, Data analytics and all the Digital transformation within organizations
Big data and Business Intelligence changing decision making for good
Advertising & Promotion using technology to understand customers and deliver customized messages
IOT and other technologies that are changing the way we live and work
Impact of Social networking on individuals and society
Understanding online behavior dynamics
Technology addiction and digital detox
Digital assessment in recruitment and training
Knowledge management in a networked world
Presenter Guidelines
Original video/audio talks of 10-15 minute duration are invited on any topic relevant to the theme and sub themes. Top 15 talks will be shortlisted for presentation at the conference, based the following criteria. A separate track for student presenters will offer students the opportunity to present.
Evaluation for selection to present will include:
Originality of Research and rigor of the same
Innovation/freshness
Logic and Content
Relevance to the theme
Presentation
Authors are requested to submit their manuscripts in IEEE format with maximum 6 pages to the conference mail id : This email address is being protected from spambots. You need JavaScript enabled to view it.
Cash Prizes will be awarded to the best among the selected presentations. Last date for submission of video/audio talk along with full paper is 30th of August 2016.
Conference Structure
The conference will be a combination of key note address, expert talks, panel discussions and paper presentations.
Program Itinerary
Day 1
10.00 am: Inauguration
Chief Guest: Digital Transformation and Society by Sri. Rajeev Chandrasekhar
Keynote address: Digital Transformation and Technology- How IOT will transform lives by Mr. Rahul Bedi, Seniour Vice Precident, Intel.
Keynote address: Digital Transformation and Business by Mr. Abhinav Johri, Senour Manager, Advisory Services E and Y.
Keynote address: Digital Transformation- Change, Challenge, Choice by Dr. H S Ashok, Professor of Psychology, Bangalore University.

Panel Discussion on 'Vistas of a future digital world'- an interdisciplinary view
Panel Members:

1. Mr. Vinaykumar Suthrave,GM, Digital Commerce Practice- Mindtree
2. Dr. Sudha Bhogle, Head of Educate Students Solutions, Bangalore.
3. Ms. Revathi Ramamurthy, AVP, Sonata Software.
4. Mr. Nagaraju K B – CEO & Director, Innovative Retail Concepts, Big Basket.com.
Day 2
Technical Session-Chairperson: Dr. B S Chandrasekhar, Infosys
Expert Talk 1: Data for Business Decisions by Mr. Aniruddha Kannal , CEO of hed-x
Expert talk 2: Digital assessment in Recruitment and Training by Dr. Rashmi D, Senior Manager, Center for Behavioral Excellence, Talent Transformation, Wipro Technologies, Bangalore.
Expert Talk 3: Consumer behaviour in the Digital age & new tools in Consumer research by Dr. Sunila Benjamin, Director - Nielsen Consumer Neuroscience
Valedictory address-Cheif Guest: Sri. Ashok Pamidi, Regional Head-Karnataka, NASSCOM
**Selected Presenters for technical sessions will be intimated in-advance.
Registration Fee
| | | |
| --- | --- | --- |
| | Presenter | Participant |
| Corporate Executives | Rs. 3,000/- | Rs. 1,500/- |
| Academics/ Research Scholars | Rs. 2,500/- | Rs. 1,000/- |
| Students | Rs. 500/- | Rs. 500/- |
Conference registration fee includes participant kit, conference proceedings, access to all conference sessions, lunch and coffee/tea breaks. Registration fee can be paid through a demand draft drawn in favor of Surana College (Payable at Bangalore).
Note: Accommodation for Outstation Participants: For outstation participants limited free accommodation is available on first-cum-first-serve basis.
Chief Patron
Smt Archana Surana,
Managing Trustee GDA Foundation
Conference Director
Prof. A. Srinivas – Director, MCA
Advisor
Dr. H R Appannaiah
| | | |
| --- | --- | --- |
| Dr. Y.T. Balakrishna Acharya | 9448086877 | Convener |
| Dr. Sudhakar G P | 9845463941 | Convener |
| Dr.Shruthi V.K. | 9900779004 | Member |
| Dr. Anita Narayan Bhat | 9449357163 | Member |
| Ms. Shreelatha H.R. | 9448885661 | Member |
| Mr. Vijay J. | 7760759922 | Member |
| Mr. Prashanth P B | 9686345111 | Member |
| Mr. Tabreez Pasha | 9844644416 | Member |
| Mr. Balaji K. | 9886571989 | Member |
| Ms. Prathima Bennurmath | 9845503719 | Member |
| Ms. Latha Raju | 9743031234 | Member |
| Ms. Bharathi Ramesh | 9481477629 | Member |
| Ms. Brinda Muniyappa | 9731038687 | Member |
| Ms. Manasa D | 8105241741 | Member |